Si l'enregistrement est une science, il ne fait aucun doute que le mixage est un art. La preuve avec cette vidéo et ce concours qui vous donneront l'occasion de collaborer avec Fab Dupont et Will Knox et de mettre à l'épreuve vos talents de Home Studiste.
Lisez d'abord ce qui suit avant de regarder la vidéo en bas de page. Oui, je sais, vous n'aimez pas lire mais c'est pour la bonne cause car il ne s'agit pas seulement d'un tutoriel mais d'un concours ô combien intéressant...
Fab Dupont a beau avoir une bouille de jeune homme, il n'en reste pas moins qu'il a déjà un CV qui en ferait rêver plus d'un. Lauréat de 3 Grammy Awards, il a en effet bossé comme producteur, mixeur ou compositeur pour certains des plus grands noms de la musique. Des exemples ? Queen Latifah, Bebel Gilberto, Jennifer Lopez, Isaac Hayes, Shakira, Santigold, Mark Ronson, Les Nubians, Toots And The Maytals, Bon Jovi, Sean Lennon, John Travolta, Babyface ou encore Nat King Cole…
Ah oui, quand même…
Et comme si tout cela ne lui suffisait pas, il s'est aussi récemment lancé, avec la société Puremix, dans la réalisation de tutoriels vidéos sur le mixage et l'enregistrement. Là où ça devient intéressant pour nous, c'est que pour promouvoir Puremix, notre homme est au cœur d'un concours réalisé en partenariat avec Avid, le papa de Pro Tools. Un concours qui commence dès aujourd'hui avec cette vidéo tournée lors de la dernière édition des AudioDays.
Recording masterclass
Au programme de cette dernière, l'enregistrement complet d'une chanson du talentueux Will Knox (à découvrir) dans des conditions qui sont loin d'être idéales. Comprenez que si l'enregistrement s'est fait avec du bien beau matériel (micros Josephson, préamps Neve, Dave Hill ou Helios, séquenceur, interface et convertos Pro Tools dernier cri) dans un bien bel endroit (studio du grand palais), il s'est déroulé dans un coin du studio devant un public d'une centaine de personnes. Entre studio et live donc, sans pouvoir jouer avec des panneaux pour optimiser l'acoustique...
Or, ces conditions un peu rock'n'roll sont prétexte à une passionnante masterclass sur la prise de son, où Fab, en bon pédagogue, après avoir parlé méthodologie, commente chaque choix de micro, chaque placement, chaque parti-pris, essayant de tirer le meilleur du temps qui lui est imparti et du lieu qui lui est imposé.
La chanson a beau être excellente et jouée par un trio parfaitement en place (guitare, voix, violoncelle et batterie), vous imaginez bien les mille-et-un petits problèmes posés par cet enregistrement Live fait en une heure : le son est certes là, mais la repisse est également présente sur toutes les pistes. Bref, la compo de rêve pourrait vite tourner au cauchemar de mixage…
Et c'est là que vous intervenez.
Concours : le mix dont vous êtes le héros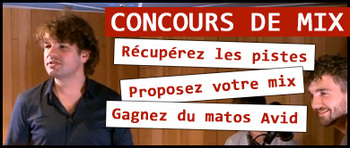 Parce que oui, c'est un concours de mixage et qu'il va falloir bosser pour accoucher d'un titre qui s'annonce très prometteur. L'idée d'Avid et de Puremix, c'est ainsi de vous livrer toutes les pistes enregistrées par Fab Dupont durant cette session un peu particulière. Après, c'est à vous de jouer.
Vous importez les fichiers WAV dans votre séquenceur quel qu'il soit, vous utilisez tous les plug-ins ou outboard qui vous chantent, vous y passez le temps que vous voulez pourvu qu'à la fin, vous nous proposiez votre mixage à vous.
Autant vous le dire, Fab Dupont a déjà mixé le morceau et nous aurons donc droit à une deuxième vidéo tout aussi passionnante que la première pour détailler sa façon de faire. En attendant la diffusion de cette dernière le mois prochain, ce sera à vous de jouer, et de proposer votre mix pour tenter de gagner un des lots proposés par Avid / PureMix :
Quoi dire d'autre ? Tous les détails sur ce concours vous attendent ici.
Le forum pour en discuter est là.
Et enfin la vidéo :
Bonne projection et surtout bon mix !
PS : Merci à Puremix, Avid, AudioDays, Fab Dupont et bien évidemment Will Knox dont on tâchera de ne pas trop massacrer la chanson. ;-)